The Alphotel is located near the motorway exit Innsbruck-Ost, and therefore offers an uncomplicated journey.
arge free parking around the hotel and furthermore there are 6 Tesla Supercharger charging
tations at the hotel. Bus stop in the center directly in front of the hotel.
Please leave the motorway at the Innsbruck OST exit and go straight on for approx. 150 m, turn right twice and you have already reached our hotel.
Numerous international airlines fly directly to the Alpine metropolis of Innsbruck. We are happy to organize a shuttle transfer from the airport to your hotel. Enjoy a little sightseeing from the airport: Take the F-line and get off almost in front of the hotel, stop Bernhard-Höfel-Straße.
The ideal location between Bavaria & South Tyrol makes Innsbruck an international hub for rail traffic as well. Trains from all directions arrive almost every hour. You can reach our hotel by taxi after about 10 minutes.
Leave the car and take the bus to the city. That's super easy. Thomas, Liechtenstein via Booking.com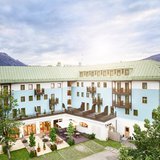 Conveniently situated and within a few minutes back on the motorway. Wolfgang, Austria via Booking.com